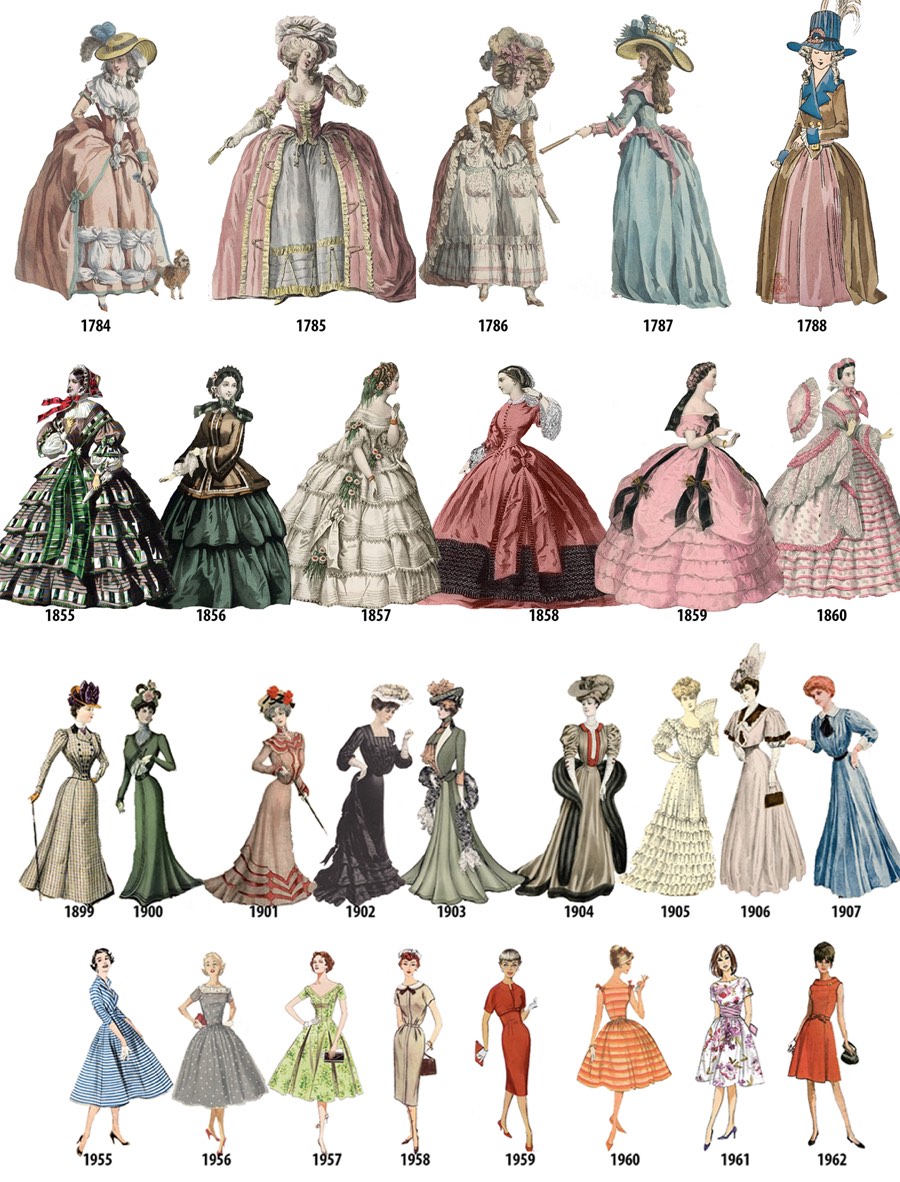 Part of the appeal of watching period shows like Mad Men and Downton Abbey that happen over the course of many years is observing how fashion changes. Collected from a number of fashion plates, this image shows what a woman might have worn each year from 1784 to 1970. (I'm guessing the image only goes up through 1970 because photography made fashion plates increasingly irrelevant.)
Fashion plates do not usually depict specific people. Instead they take the form of generalized portraits, which simply dictate the style of clothes that a tailor, dressmaker, or store could make or sell, or demonstrate how different materials could be made up into clothes. The majority can be found in lady's fashion magazines which began to appear during the last decades of the eighteenth century.
The above-the-knee dress makes its first appearance in the late 1920s (and then not again until the 60s) and everything is a dress or a skirt until the pantsuit in 1970.
During the 1960s trouser suits for women became increasingly widespread. Designers such as Foale and Tuffin in London and Luba Marks in the United States were early promoters of trouser suits. In 1966 Yves Saint-Laurent introduced his Le Smoking, an evening pantsuit for women that mimicked a man's tuxedo. Whilst Saint-Laurent is often credited with introducing trouser suits, it was noted in 1968 that some of his pantsuits were very similar to designs that had already been offered by Luba Marks, and the London designer Ossie Clark had offered a trouser suit for women in 1964 that predated Saint Laurent's 'Le Smoking' design by two years. In Britain a social watershed was crossed in 1967 when Lady Chichester, wife of the navigator Sir Francis Chichester, wore a trouser suit when her husband was publicly knighted by Queen Elizabeth II.
The last item about Lady Chichester was marked with a "citation needed" on Wikipedia, but I found a YouTube video of Chichester's knighting and sure enough, his wife is wearing a bright red pantsuit (and he's wearing what looks like a baseball cap (but is likely a sailor's cap)).